Friday, July 31, 2009 ♥
Teapot ♥ 2:24 AM
A teapot for you to put a candle in it, enjoy your romance with your love one.
Item code: #F4
Price: $3/piece
♥
Cat ♥ 2:19 AM
A small plate in the shape of a cat and even has the eyes, nose, etc. printed on it! So beautiful!
♥
Chicken ♥ 2:12 AM
Wonderful ceramic chicken for sale. Brand new. Instocks! It is a
piggy
chicken bank!
Item code: #D4
Price: $5
Thursday, July 16, 2009 ♥
DOREABOB TEE, PATRICK THE STAR AND DOREABOB+PATRICK TEE ♥ 2:25 AM
Always wanted a unique tee? Here's your chance! This tee is really unique! Made up of Patrick, Spongebob and Doreamon!!!
Guess what? It cost only $15!
Doreabob and Patrick the star
Code number: #A4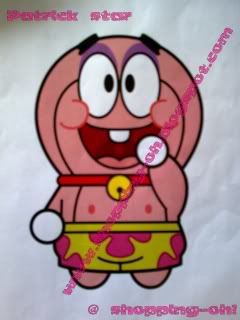 Patrick the star
Item code: #B4

Doreabob tee

Item Code: #C4
Quick! Get yours now!
One for only $15 dollars!
Capping: -/3
Colour available: White
(Picture is A4 size)
Sizes for children:
22, 24, 26, 28, 30
Sizes for unisex:
30 (XS), 32 (S), 34 (M), 36 (freesize), 38 (L), 40 (XL), 42(XXL)
*Please Note that extra charges of $3.50 will be charged for size 40 (XL) and above.

Measurements Here

Labels: Special Tees
Saturday, July 11, 2009 ♥
Blacklisted ♥ 3:21 AM
Labels: Blacklisted
Wednesday, July 8, 2009 ♥
Cartoon Tees ♥ 3:02 AM
Labels: Cartoon Tees, Order Status
♥
Hanging Ceramic Animals ♥ 1:39 AM
Labels: Ceramics, Hanging Ceramic Animals, Instocks, Order Status
Sunday, July 5, 2009 ♥
Promotion! ♥ 9:36 PM
Labels: Announcements, Promotions