Saturday, January 16, 2010 ♥
Cartoon Tees without capping!!! ♥ 12:44 AM
Saturday, December 26, 2009 ♥
Keychains ♥ 1:19 AM
Yellow Bear
Item Code: #D6
White Bear
Item Code: #E6

Bread (with the smell of the real bread)
Item Code: #F6
Item Code: #D6 to #F6
While stocks last!


Wednesday, December 16, 2009 ♥
Looking for supplier ♥ 1:27 AM
Currently not selling due to MIA suppliers and suppliers that doesn't have stocks. If you are supplying NDF FBT at $8 or below, kindly mail us!
Labels: Shorts
♥
Jelly Lens ♥ 1:20 AM
Labels: Jelly Lens, Order Status
♥
Telephone coils rubberband ♥ 12:55 AM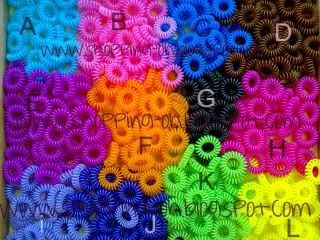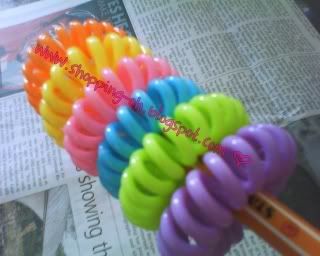 #F5 Orange
#G5 Lemon yellow
#H5 Cotton candy pink
#I5 Baby sky blue
#J5 Green
#K5 Lavender


#L5 Black
#M5 White
#N5 Electric blue
#O5 Hot pink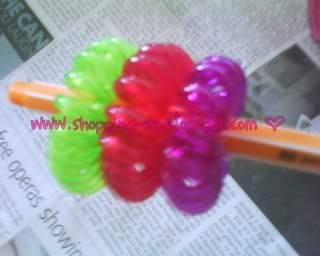 #P5 translucent green

#Q5 translucent pink
#R5 translucent purple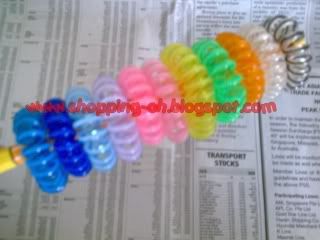 (from left to right)

#S5 blue

#T5 electric blue with light blue outline

#U5 sky blue with white outline

#V5 lavender with white outline

#W5 hot pink with outline

#X5 rose pink with outline

#Y5 yellow with outline

#Z5 lime green with outline

#A6 orange with outline

#B6 transparent

#C6 transparent with black outline

$1 each! 5 for $4.
Item code: #F5 to #C6
5 cappings needed!!!
Hairband material: Plastic
Hence, it won't hurt your hair.
Tie it around your hair or hand. :)
Mix and match the colours for different style
Labels: Rubberband
Thursday, December 3, 2009 ♥
EOY Sale! ♥ 2:18 AM
Labels: Promotions
Wednesday, November 18, 2009 ♥
Unique Cartoon Tees ♥ 8:33 PM
The gang of 12 zodiac animals.
Item Code: #E5 (top)
Happy Birthday to you.
Item Code: #D5(top)

Ever wanted to have a T-Shirt that can be hardly found in Singapore? Here's your chance!Shoppers World would be selling limited cartoon tees that can be hardly found in Singapore! Guess what? For only SGD $10 each!

Item Code: #D5 and #E5
Price: $10 each
Size: only size 36 available

Labels: Cartoon Tees, Instocks, Printed Tees
Monday, October 19, 2009 ♥
Pillow Covers ♥ 10:13 PM
Labels: Instocks, Pillow Covers
Friday, October 16, 2009 ♥
October Specials ♥ 10:37 PM
Labels: Promotions
Tuesday, September 22, 2009 ♥
Notice ♥ 3:10 AM
Starting from 22 September 2009, we will not be selling NF shorts anymore.
Labels: Notices